Monthly Archives for
February 2011
The stats folks at WordPress.com mulled over how this blog did in 2010 and, just for fun, we've posted their high-level summary of its overall health. This is what they sent us: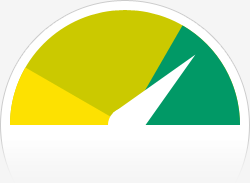 The Blog-Health-o-Meter™ reads Fresher than ever.
Crunchy numbers
A Boeing 747-400 passenger jet can hold 416 passengers. This blog was viewed about 5,000 times in 2010. That's about 12 full 747s.
In 2010, there were 27 new posts, growing the total archive of this blog to 307 posts. There were 38 pictures uploaded, taking up a total of 8mb. That's about 3 pictures per month.
The busiest day of the year was April 9th with 122 views. The most popular post that day was Doing 'The Worm' to a Polka.
Where did they come from?
The top referring sites in 2010 were facebook.com, networkedblogs.com, travel.nytimes.com, well.blogs.nytimes.com, and twitter.com.
Some visitors came searching, mostly for pearl snap shirts, breath of god, pearl snap, pearl snap shirt, and camel filterless.
Attractions in 2010
These are the posts and pages that got the most views in 2010.
1
Doing 'The Worm' to a Polka April 2010
1 comment
2
Does Jorge wear pearl snap? February 2008
1 comment
3
Naked neighbors with illegal gas grills April 2009
1 comment
4
נְשָׁמָה August 2007
2 comments
5
"Mead"? September 2007
1 comment
photo: Philipp Klinger

'A warm…soft—warm, soft sound without any sawtuhf effuht. Sawtuhfa warm clarinet sound…'
Aaron Copland rehearses the London Symphony Orchestra—1969, his 'Appalachian Spring.' Twenty-five years earlier he had scored it for Martha Graham, and he still referred the musicians today to the
passage work: 'Remembah, she would be dancing here.' Passages he didn't want these musicians—some of whom might have been children when the piece was written—to miss. He knew it earlier as 'Ballet for Martha.' The New York Times had called it 'shining and joyous.'
'That's good! Swell. Hold it a little longer!'
The piece won the Pulitzer Prize for Music, and Isamu Noguchi designed the set for the premiere, which was performed at the Library of Congress. How did he divorce his conducting this day from his visual memory of a quarter century earlier? I wondered. The premiere was on October 30, 1944, when America was at war.
Earlier that day, October 30, two young women were deported from Auschwitz to the Bergen-Belsen concentration camp. They are Margot and Anne Frank.
That day, Navy Lt. J.N. Christenson wrote from his ship to his 'Dearest Mother and Dad,' saying:
I've tried recently to inventory the experiences in this part of the world and measure them against my expectations of what life in the tropics would be like. It all is about as expected. The heat is not much worse than in summertime Washington, D.C. The margin of discomfort is the humidity which gives wringing wet clothes and dripping brow. Strangely enough, the heavy khaki shirt, wool sox and heavy shoes that I wear seem to insulate. Then, too, the heavy footwear is more comfortable for the long hours of watch standing and treading the steel decks.
The beautiful blue and green waters I had known would be here and the various backgrounds of white beach and green jungles. There isn't evident as much bird and animal life as I had thought, but then I haven't spent any time in the bush. The evenings are surprisingly cool. Many of the men sleep out on deck in hammocks slung from gun to rail, on cots, or just 'flaked out' on the deck. There's always a breeze stirring. Oftentimes they get a wetting down before morning, but the percentage is in favor of an uninterrupted night's sleep.
Mother, I'm enclosing a check for $50. Will you make it stretch for gifts to the people I like, name of you and Dad, the nieces and nephews, and Carl. Like most of us out here, I've been hoping to find some things to send home, but outside of a few shells, a souvenir anchor chain link, and a brace of .38 caliber revolvers, my possessions aren't of the Christmas gift sort. So, you'll have to play Santa Claus for me, please.
Copland said when he was younger that he wanted to write music to 'make you feel like you were alive on the streets of Brooklyn.'
'At 2, gentleman—everybody—ladies—watch out about…it's getting too sweetly sentimental. It, um…it's a little on the Massine side there. Play it sawtah more cleanly. And 14,…nobody else would be disturbed by it, but I get a little disturbed by it. 14 is, uh, it's too sentimental. Too much sentiment. It's the wrong sound. It sounds on the Tchaikovsky side. Don't play it so…,' Copland's voice fades. 'Make it more American in spirit and—the sentiment isn't all shown on the face. You know? It's more…cool. The music by itself is warm; you don't have to help it by… 16, everybody, please!'
§
My father wears a khaki-colored shirt. It's a beige herringbone pattern, drenched in the armpits and on the spine from the New York City summer heat. It's open at the neck two buttons down toward the chest, showing his graying and scraggly hairs and, beyond that and held by hard-working buttons, it cradles the stomach cultivated by gourmet meals. I am sure he bought the shirt from St. George's Thrift Store. Perhaps it was 1977, the summer we had the blackout. That day, July 13, there were 3,776 arrested for looting, disorderly conduct, or nefarious behavior. That summer is 32 years after the end of the Second World War but only eight years since Copland had rehearsed the London Symphony. I was 14. The year before, 1976, Martha Graham was awarded the Presidential Medal of Freedom by Gerald Ford, whose wife, First Lady Betty, had once danced in her troupe. Martha was 82.
His trousers are khaki as well. He had tried to enlist in the military before the start of the war, but his asthma and other conditions earned him a medical rejection. I always held it against him that he never fought, unlike my five uncles—two on my mom's side and three on my father's—who were in the Navy, Air Force and Marines. They never told me stories about the war, but I knew they had been part of it.
In his khakis and sweating in the summer heat, maybe in the blackout, Dad concentrated on the carrot, paring each one carefully, making sure to not cut his finger and that each was sliced diagonally and evenly, the same thickness, and at least an inch and a half long, to make it suitable for scooping his homemade curry mayonnaise dip. Aaron Copland's 'Appalachian Spring' played on WNYC-FM on the radio above the refrigerator. The radio had a TV band as well, because he liked to listen to the MacNeil/Lehrer News Hour on Channel 13 at 6pm, and because 'there's no need to watch the news; you only need to listen.' In 2009, when Jim Lehrer introduced the new NewsHour format, he read some guidelines he considered pillars to his work, including these two: 'Assume the viewer is as smart and as caring and as good a person as I am,' and, 'Assume the same about all people on whom I report.'
The kitchen tiles were maroon linoleum with a Moorish trellis pattern. Dad had designed and built two counters with storage units below. One was attached to the stove and curved around to the entrance to the kitchen. My brother Jim and I ate all our meals here, except on nights when we had family dinners in the dining room. The latter room my father had painted and then added a heavy lace stucco to the walls and ceiling both, along with a Christmas-tree-light chandelier with hand-painted gold leaves. A room fit for bacchanalia. The other counter he built was next to the dishwasher. In addition to the storage beneath it, there was also an 18-inch square cutting board raised ¾ inch from the top. Around the cutting board were glazed tiles he had purchased in East Harlem. I had gone with him when I was about eight or nine.
Dad had wanted to be an architect but, as his mother died when he was nine and his father, later remarried, died when he was 20 in 1941, he was forced to quit college as a junior and begin earning money to help out his two younger half-brothers, his half-sister and his widowed step-mother.
He was a page at NBC on Sixth Avenue and used to go across the street to Hurley's and buy two ryes for the cost of one whiskey.
photo: nickmur